Portrait photography with an urban twist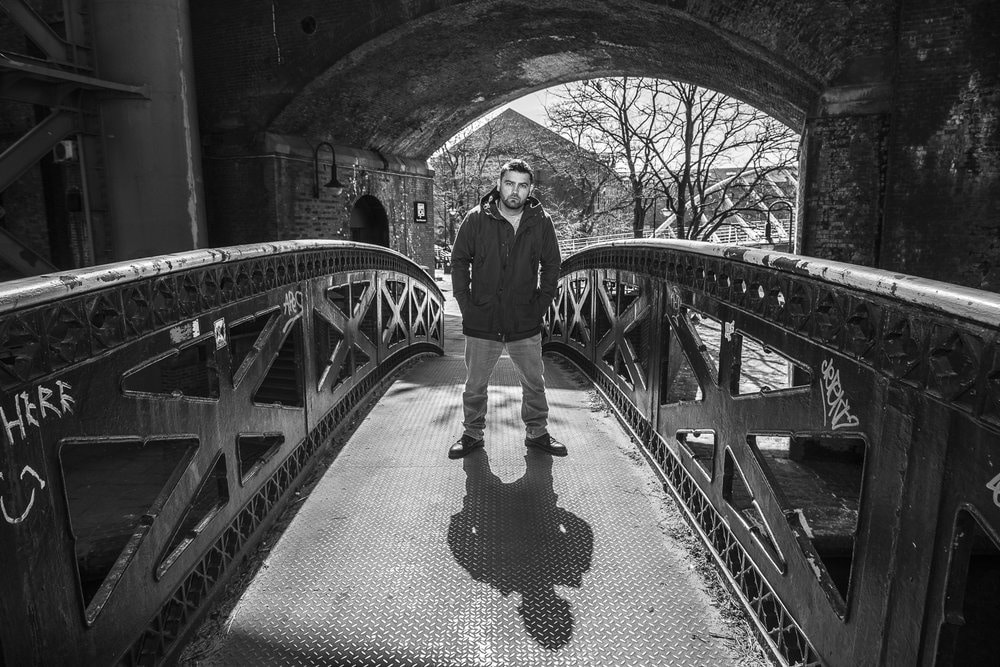 A recent photoshoot for scriptwriter and local poet, Argh Kid (David Scott).
Tagged a "thinking man's Shaun Ryder" he combines monkey business, melancholy, grit and wisdom. From hilarious drug escapades 'Tripping with Jackie Chan', to questioning race and identity 'Beige Boy' and championing home with civic pride on '…So Much To Answer For'. Argh Kid "Brings humour, heart and a whole range of genuine emotion to his work."
With tales of friendship & fighting to drugs, music & love. It's a superb fresh mix of stinging social commentary and pub-toilet-sink realism.
Already a self confessed fan of my Manchester photography and my gritty black and white urban style, he called me asking if I could help him out with a photoshoot in Manchester City Centre. The brief was to try and capture Manchester's industrial heritage merged with the modern day version – in a style that suited his own unique voice. The photographs are to be used on his press releases and made available for download from Greater Manchester Fringe Press Info section where he is due to perform in July.
Time was limited though – because of his job as a freelance writer – so we headed to the most Mancunian location we could think of that was instantly recognisable – Castlefield. It is used a lot for this kind of shoot but ultimately it does what you want it to do. And that is to provide an urban background that spans the ages.
David was great to photograph and it was great fun, although it was hard to concentrate over his posing and constant chatter which was for the most part incredibly funny.
[/et_pb_text][/et_pb_column][/et_pb_row][/et_pb_section]