Galloways Print location photography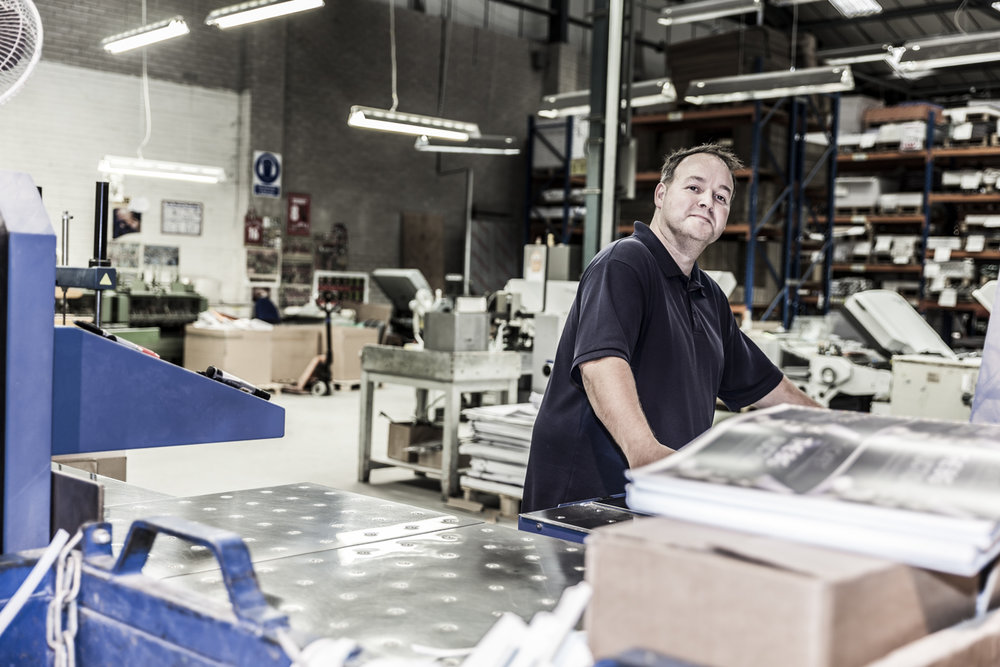 Going into a working business to photograph it's working day is always a challenge. Particularly when it's a deadline driven company like Galloways Print is. This photoshoot was part of a larger project that involved the build and website redesign.
Like a few projects I've undertaken over the years I was able to offer Galloways Print location photography to go along side the design and build of their new site. This really enabled me to control the style of photography and what I needed to photograph during the shoot.
The photoshoot was split over two half days the first was concentrated on capturing the business end of the company. Print processes, finishing, packing, checking where all photographed. Even the less glamorous side, the storage and fulfilment areas where captured for the purposes of the website design. But the best part of the shoot was capturing the heroes of the business. Like many small companies, their reputation and quality is build on the skill and workmanship of their team. So where possible, I set about photographing a number of employees at work. The style was mixed between looking directly at camera or doing their job. All with the purpose of portraying Galloways as a professional and skilled outfit!
The second part of the Galloways Print location photography shoot was the "meet the team." It was great fun trying to get some of the less comfortable folk to relax in front of camera. Made worse by shooting them in the middle of the shop floor in front quite a few of their colleagues.
I had to pop back and finish a couple of shots off, due to the logistics on my scheduled days, but that's part of the job, all in a great day of commercial photography, with some cracking images for the website.